Heraldbee will automatically create a working Google Shopping campaign for you.
You need two Google accounts to make Google Shopping work:
Ads (AdWords) – where the campaign is set,
Merchant Center – where all your products are stored.
Google always verifies if you meet the policy requirements and if all the information is provided.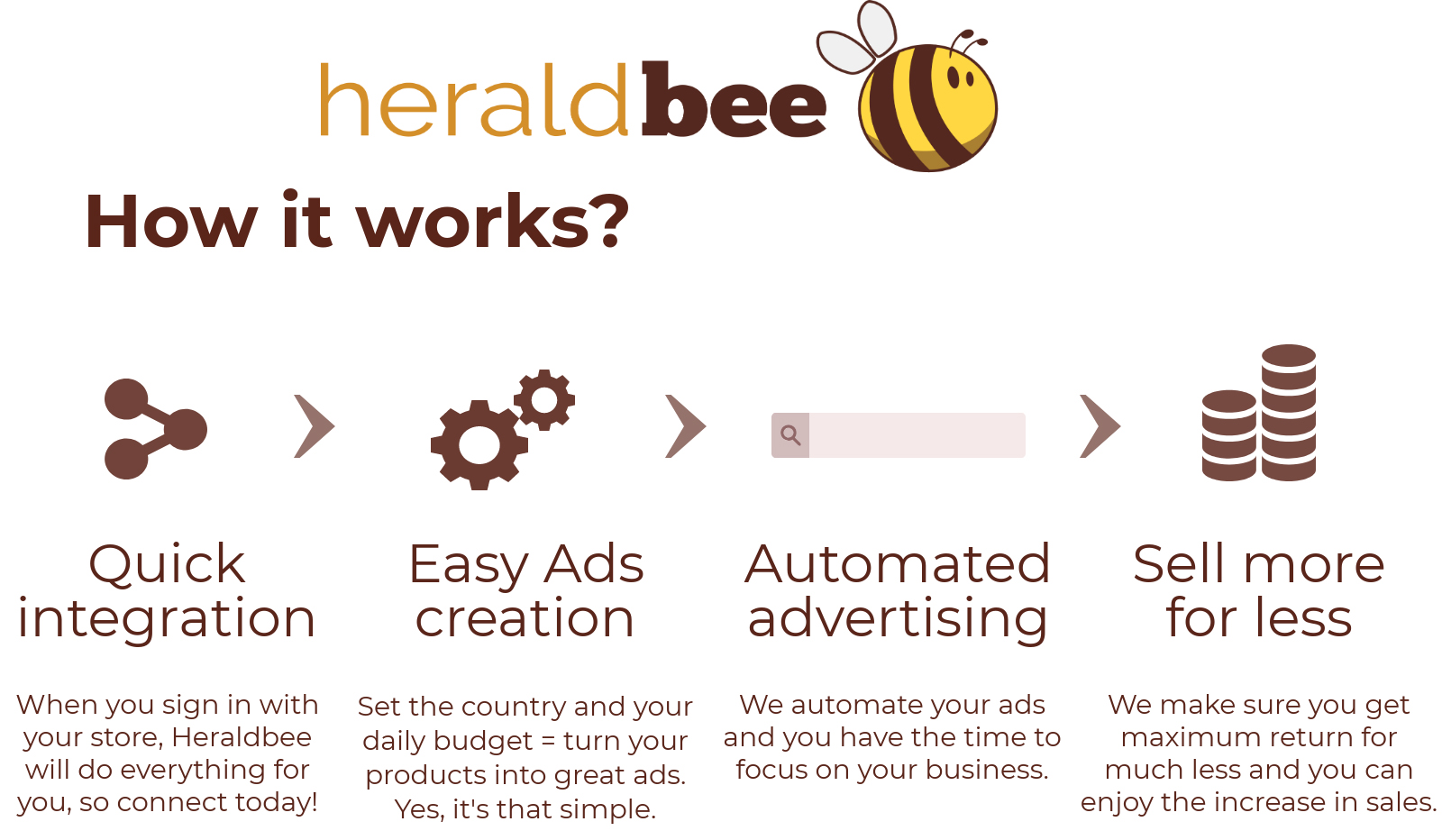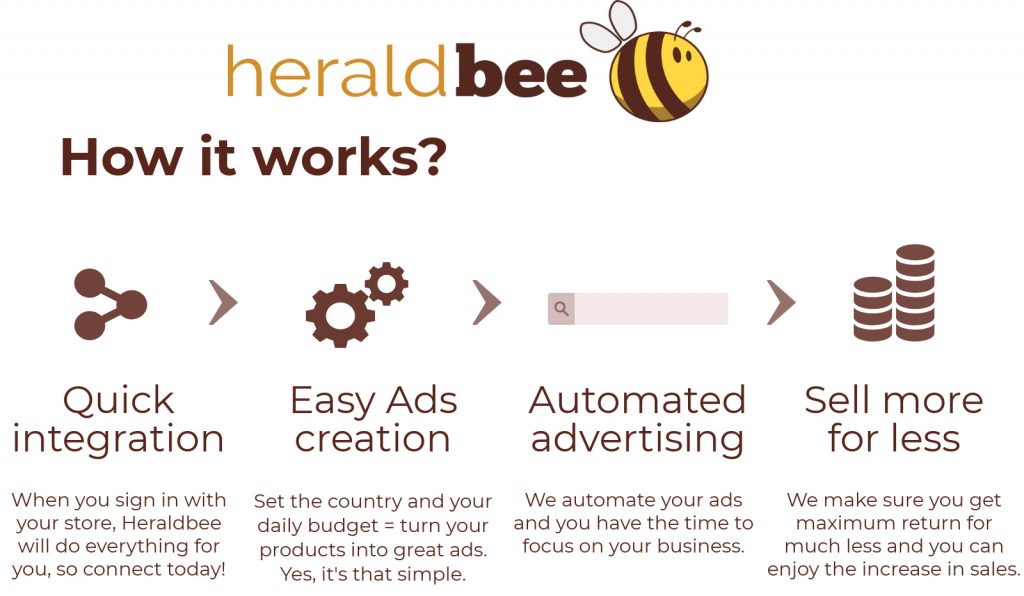 Heraldbee gives you 2 options:
When you don't have your own accounts or want to use new, Heraldbee will create Merchant Center and Google Ads accounts for you to run the Shopping campaign. You won't have access to these accounts.
You can log in to your own Google Ads and/or Merchant Center* and we will run the Google Shopping campaign with them.
*Everything is possible even with only one account – Heraldbee will create the second one and run the Google Shopping campaign.
Heraldbee creates also a Google Analytics account for you, so we can analyze your business and better optimize the campaign.
What is Heraldbee? 
Heraldbee creates your advertising using only the data from your store. All ready and configured in 5 minutes and 4 easy steps.
We know that a successful business starts with advertising, so we want to help you with it. You can focus on your business and we will do our best to attract new customers.
Heraldbee is an application for Shopify and Woocommerce stores that automatically creates Google Shopping campaigns, but our team can do much more.
How does Heraldbee work?
Heraldbee makes online advertising easy. 
The basic advertising we provide is Google Shopping, but we offer a bunch of other services too. You can mix them and build a complex, customized plan adapted to your needs.
First, choose how much you can spend on advertising and Heraldbee will create an advertising campaign for you. Apart from the budget, you can also choose a country, where you want to advertise.
What exactly is Google Shopping? Why is it the best advertising tool for ecommerce stores?
Google Shopping is a specific type of advertising on Google. It is all about the product. Shopping ad consists of an image, a description, a price and a link to your store. 
It is the best-targeted type of advertising because Google matches searched phrases with product descriptions. Potential customers click your ads and get redirected to your store.
According to Google: "These ads give users a strong sense of the product you're selling before they click the ad, which gives you more qualified leads. They are created through the Merchant Center, where you can upload and store product data with feeds that contain all the information on the inventory you want to sell."
Is your app free? 
Heraldbee is free if you want to advertise less than 100 products. This option is our FREE pricing plan – which includes running a Google Shopping campaign and a basic support.
We also have BASIC plan for stores with more than 100 advertised products. The plan includes Account Manager's support and individual tips for your store for 49$ a month.
The last, PREMIUM plan, is a customizable one. It combines different services chosen by you.
You can check the details of our offer and set up a consultation call on the pricing site.
How much would I have to spend?
The main cost which you need to bear is for Google Ads. Advertising is the only way to make your business grow and earn.
Heraldbee experts advise spending a minimum of 10$ a day for a one-country advertising campaign. The bigger business you have and the more products you sell, the bigger your budget should be. 
Why should I add my credit card to your application? Is it safe?
We need your credit card to make your campaign work. Heraldbee will regularly pay Google for your ads so that you don't have to think about it yourself.
Delayed payments are among the most common reasons for disapproved ads. At the same time, this issue is the easiest to solve. We want to keep your campaign running and profitable all the time, so we need the details of your card. 
Can I advertise in more than one country? 
Yes, Heraldbee gives you the possibility to advertise in multiple countries at the same time. However, please remember that your budget should be at least 10$ a day for each of them. 
You should also keep in mind that you can only run your ads in countries with the same language as your online store to comply with Google requirements. 
Could you only create and configure the Google Shopping campaign for me? How much would it be?
Yes, we can only create the campaign for you with no other services. The individual price can be discussed during a call. Schedule an appointment with our Account Manager here.
What services do you provide? 
We can provide you with:
Individual tips for your store given by a dedicated Account Manager

SEO for eCommerce

Google Ads for eCommerce

Facebook Ads for eCommerce

VK Ads for eCommerce

UX Audit for eCommerce

Individual Developer to improve your store

Individual Marketing Strategy Plan
How to get Google Ads (AdWords)
Create your Google Ads (AdWords) account:
Many merchants use Google AdWords as a way to get their products seen by potential buyers.
You can use Google Ads to display your products as search ads, display ads, video ads, or in-app mobile ads on the Google network.
Find out more about Google Ads via Google's Help Center.
Or, watch the video below:
How to get Google Merchant Center Account
Create your Google Merchant Center account:
Google Merchant Center is where your feed lives. It's also the place where you can set tax and shipping rules, both of which are required before running Google Shopping Ads. The feed contains data about your products, presented in a format that Google can read and understand. There are two main ways to build a feed:
Manually–by entering your product information into a spreadsheet according to Google's specifications.
By using an extension, plugin, app, or service that pulls data from your site and formats it in a way Google likes.
We'll discuss the pros and cons later, but for now, here's how to create your Merchant Center account. To get started visit www.google.com/merchants and click sign up. Here are a few tips for setting up shop.
Have access to your domain registrar – You'll need to verify that you own your site and then claim it for use in Merchant Center. The easiest way to do this is by logging into your domain registrar and giving Google access. This can all be done directly from Merchant Center.
Know your tax and shipping settings – Under General Settings in Merchant Center, you'll need to set up both tax and shipping rules. For sales tax you can enter your rates directly or pick the states you charge sales tax in and allow Google to determine the rate. For shipping you can choose between a flat rate (which could include free shipping), carrier-calculated, based on the carriers you use, or base it on a rate table or rules chosen by you.
How to link Merchant Center and AdWords
Link Google Merchant Center with AdWords – Under "Settings" and "AdWords" is the option to link your AdWords Account. You'll need a 10 digit AdWords ID in order to link the two. You'll also need to be logged in with an email address that has admin access to both accounts.
Find out more about Google Ads at Google's Merchant Help Center
Heraldbee uses the Google API to provide you with:
Quick price updates in Google Shopping PLA ads;
A quick update of the stock availability status in Google Shopping PLA ads;
The fastest possible change processing in Google.
Heraldbee optimizes campaign settings per Product, while marketing agencies usually optimize campaign settings per Category.
What factors are taken into account when optimizing the Google Shopping campaign?
Location and language;
Type of device – the probability of purchases being made via mobile devices may vary, depending on the types of products sold;
Time – the time of day can affect how well your views convert into sales;
Purchase intentions of the customer – this depends on the accuracy of the query;
The most profitable level of the rate per click.
So, let's go and start using Heraldbee today!
The content on this website also comes from sources available at help.shopify.com.