Heraldbee works totally automatically (!)
You need two accounts to make Google Shopping work for you: Google Ads (AdWords) and Google Merchant Center but you don't need to worry. Heraldbee will create both of them for its own use to run your campaign. Then we will connect those accounts and make your campaign run. You won't have access to these accounts. 
Please notice:
 Google needs a couple of days to accept your products after the campaign starts. But when they are once accepted, you can be sure, that thanks to Heraldbee your ads are constantly updated with your feed changes. Don't worry, give it time.

 If you were using your own Google Merchant Center account, it will be disconnected.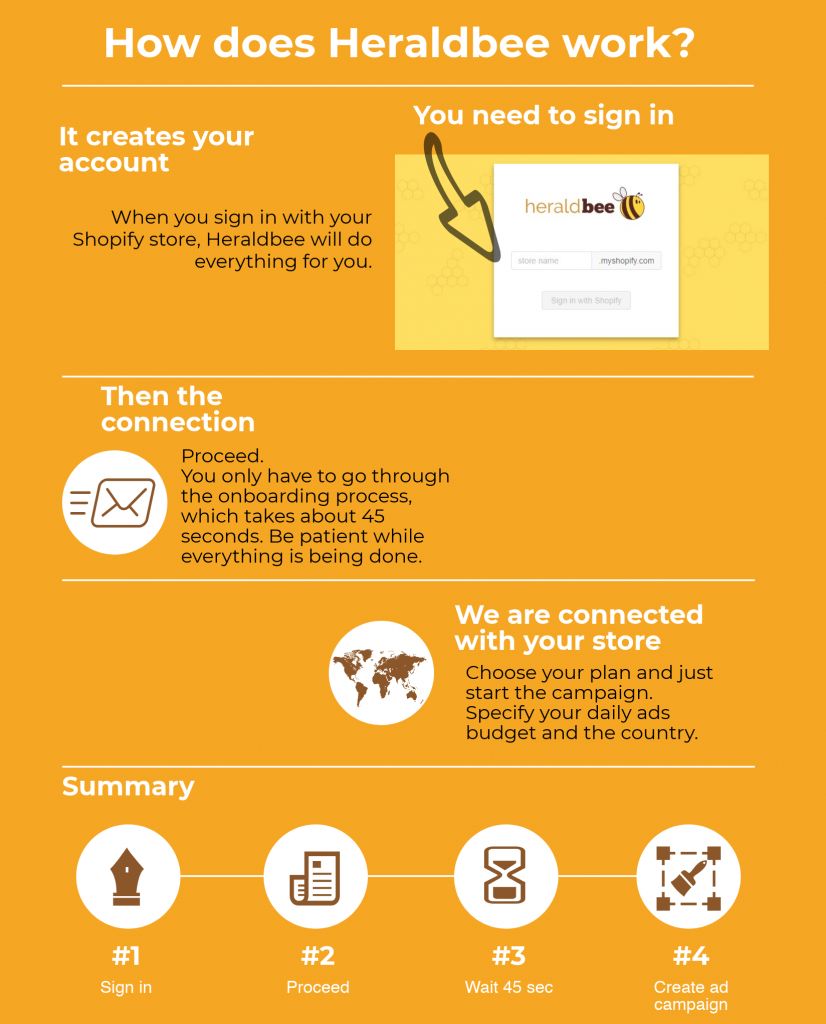 Heraldbee is free to install. Only running the campaign means extra Google Ads costs. You determine your daily ads spend in the campaign settings. Using Heraldbee can be charged when your free trial has expired. We offer you three plans:
a free plan including up to 1000 products,

a basic one for more than 1000 products billed 49$/month,

a premium one for individuals with high needs and specific expectations.
You can decide to pay it in advance for a year and then it's even cheaper.
Every payment will be charged to your Shopify account. We charge every 30 days.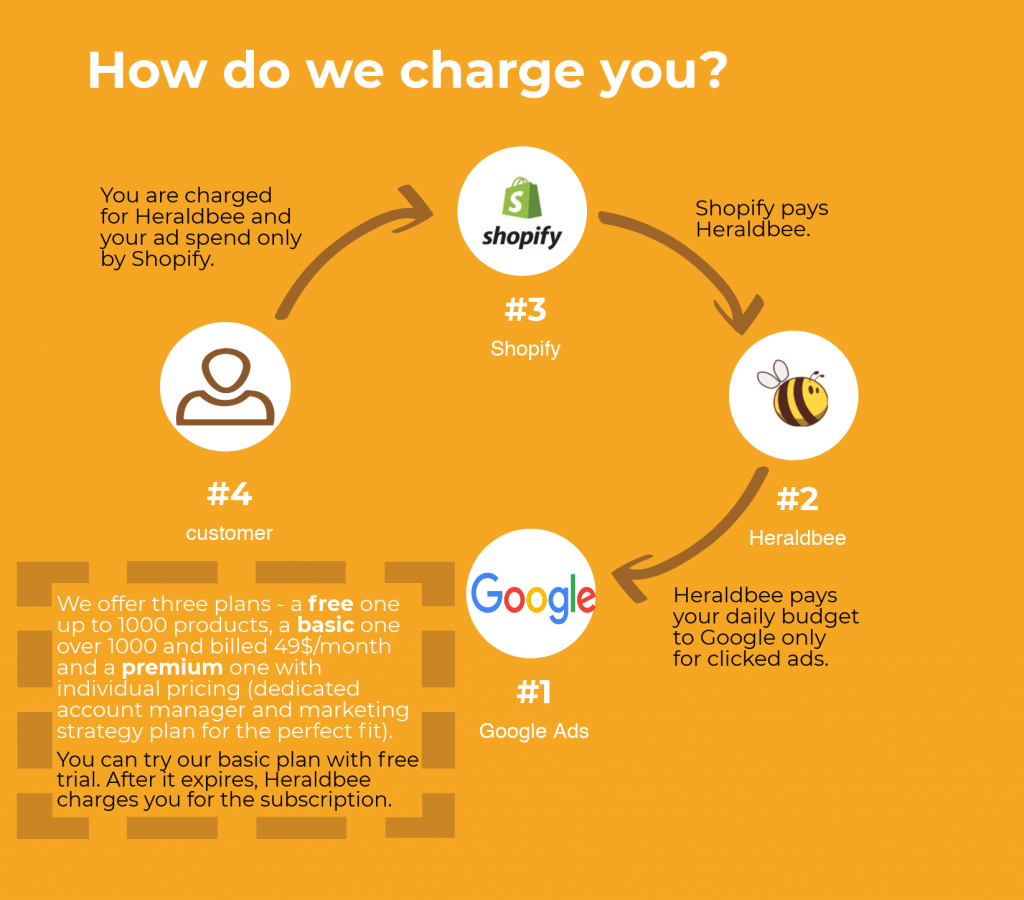 Basically, all you need to have is a running store. Heraldbee creates your campaign directly from your product feed. You don't need to add any images or descriptions when your feed works. Our App creates ads automatically.
Heraldbee can also fix the basic features of your feed or add some values. It is limited, so we added the Feed Optimizer view. You can see how it's going there. We marked which products are waiting for Google response, which are accepted and which are rejected.
Frequently Asked Questions
How many customers do we have?
We have just started, but we already have around 100-200 users per month. Certainly, many issues arise, but most of the time they are not related to the performance of our application but rather to the approval of products and online store in Google.
I have installed your application, but my ads are not displayed. What should I do next?
In 99% of cases, we wait for products' approval in the Google Merchant Center or Google's approval for your web-based store to be displayed in Google Shopping. Once both conditions are fulfilled, we can kick off with the campaign. We monitor the case and regularly update its status in our Feed Fixer, where you can check it. If it's necessary we also contact Google's support.
How long does it take to get the products approved in Google?
According to Google, it takes up to 72 hours. However, sometimes it takes even longer. If this is the case, we personally contact Google to find out what the reason is and then provide you with guidelines.
What makes Heraldbee different from other applications?
Above all, our application is focused on bringing traffic to the website (prospecting). It's also much more automated comparing to other apps. What's important is that we are not a marketing agency with an application, but rather an application supported by experts. What we care about the most is creating well-set-up and optimally managed campaigns. You can find detailed information about the differences here: https://heraldbee.com/alternatives/
Once you have your account created, you can use Heraldbee to optimize your campaigns in Google Shopping.
Heraldbee uses the Google API to provide you with:
Quick price updates in a Google Shopping PLA ad;
A quick update of the stock availability status in Google Shopping PLA ads;
The fastest possible change processing in Google.
Heraldbee optimizes campaign settings per Product, while marketing agencies usually optimize campaign settings per Category.
What factors are taken into account when optimizing a PLA Google Shopping campaign?
Location and language;
Type of device – the probability of purchases being made via mobile devices may vary, depending on the types of products sold;
Time – the time of day can affect how well your views convert into sales;
Purchase intentions of the customer – this depends on the accuracy of the query;
The most profitable level of the rate per click.
So, let's go!
Start using Heraldbee today!
Additional questions are welcome via Live Chat on our website – always in the right lower corner.