How Can You Optimize Your Google Business Listing for More Sales? (NIKE in Poland Case Study)
Google My Business Listing is a great platform to present information about your business. It proves to be useful to users from all over the world. In this article, on the example of Adrenaline.pl shop, I explain how to make it optimized and effective.
How does Google My Business help promote businesses?
One of the essential elements of promoting your company both locally and online is the Google My Business program. By taking part in this program, you enable Google to show your company's Business Profile in its local Search Engine and Google Maps. Once a link to your website is visible on all advertising pages – Google Plus, Google My Company, and Google Maps – your contact information (and more) become attached to Google Search results. This way, if people are looking for products or services in a specific city and you offer them, Google encourages potential customers to visit your company's website.
The necessary information you should include in your Google Profile is:
Company's address,
Phone number,
E-mail address,
Working hours (including any breaks, e.g., holidays),
Photos (divided by options: inside, outside, team and at work),
Videos,
Posts,
Industry category.
A very interesting option is the possibility of adding posts through the Google My Business Profile. Every company that has a Business Profile can add posts about:
Offers,
Sales,
Events,
Discount codes to the store,
Important updates,
News.
To add a post, all you have to do is select "Post +" in your Google My Business app (can be found in the "Home" section) or go to "Posts" if you do it on your computer. Next, select the type of post you want to create (update, event, offer, or product), fill in all fields and click "Publish". The post can include description, time frame of the promotion or event, price, link to the offer, terms and conditions of the promotion, photos and videos. You can add offers using the Google Maps app as well. You need to choose "Your Business Profile" from "Account Circle" in the top right and then follow the same process as described above.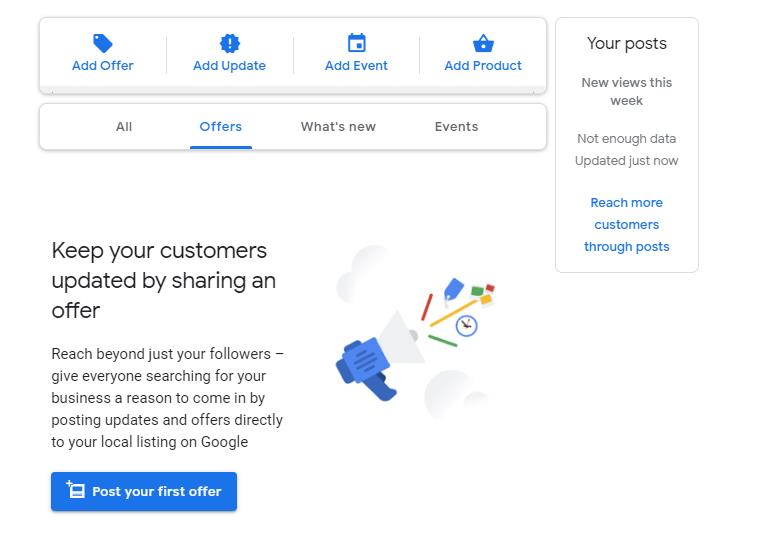 Advertising using posts is entirely free – as well as the whole Business Profile within Google My Business. Whether you run an e-commerce business, a startup, or a brick-and-mortar store, you can now sell through Google My Business.
*
Contact us and see how we can help you
*
How important are Google My Business reviews?
Business Profiles within Google My Business not only serve business owners. Above all, they should be useful for customers. With Google My Business Profile, they can:
Search for directions,
Share the shop's address with other users,
Leave reviews (to which Business Profiles' administrators can respond),
See the reviews from other customers,
Ask quick questions (which are then sent to the shop's e-mail),
Call the shop (by clicking the phone icon in the Profile),
See the images included in the Business Profile,
Add their photos to the store's Business Profile,
Suggest changes to the content of the Business Profile,
Enter the website.
It means that Business Profiles' owners can actively communicate with their customers by responding to their questions, suggestions, or reviews.
Therefore, marketers should always keep the Profile up-to-date and not leave any complaint or even a positive review without feedback. For example, in the apparel industry, negative opinions related to unrecognized claims are very common, so it's essential to know how to respond to them. On the other hand, it's worth reinforcing the good feedback by answering to positive reviews.
How do Local Guides affect Google My Business Profile?
Businesses can participate in the Local Guides program to improve the efficiency of their Business Profiles. Local Guides are a community of people who check the accuracy of the information on Google Maps. After visiting a shop, the Guide provides Google with information about the company, e.g., what does it offer, whether it is adapted for the disabled, whether there is a parking lot next to the store, etc. They also write reviews, add photos and answer questions. As a result, Google learns how useful a Business Profile is to a global user and what exactly the company does.
How can I get the first ranking position in Google My Business?
It's often the case that your competitors are located close by. In this case, looking for specific products or services, customers can see a list of companies' Business Profiles in Google Maps. Here are the factors that determine the ranking of the list:
Compatibility – how well the keywords in your business card match the customer's query in the search engine,
Distance – how far from your company's address is the customer's computer or phone,
Users' activity – how often users leave reviews or comments and view photos in your Business Profile.
High ranking is another thing marketers should consider besides keeping the Profile updated. They can do it by using the correct structure of keywords and choosing the appropriate business category (preceded by an analysis of the competitors' Profiles). Additionally, it's worth encouraging customers to leave reviews in the Business Profile. It's one way of building relationships with them.
How can I use Google My Business to get more traffic?
Google facilitates Google My Business administrators with a range of statistics that can help them determine the visibility of the website and the impact of Business Profile on customers' decisions. These include, among others:
Effectiveness of the channels in which Business Profiles are available (Google Maps vs. Search Engine),
Breakdown of how potential customers found your listing (if they knew the name and the address of the company (direct search) or just looked for a product or service category (indirect search),
Number of visits to your website coming from clicks on Business Profile,
Number of directions requests,
Number of photo views,
The number of photos added by customers.
According to BrightLocal's 2017 Consumer Review Survey, 97% of consumers read opinions about local companies in 2017, and 12% of them viewed Google Business Profiles. 85% of users trusted opinions in Business Profiles as if they were other people's recommendations. Positive reviews cause 74% of people to trust the company they are referring to.
I believe these statistics prove how having an updated Business Profile can increase traffic on the website. Visibility on the Internet is crucial for any brand and Business Profile in Google My Business can significantly improve it.
*
Do you want to optimize your Google My Business Profile?
*