How to Create Email Marketing Campaign in Mailchimp
Email marketing is one of the most effective customer acquisition strategies. It's been used by marketers for years, and there's a reason for that. It's the most direct way of establishing communication with customers and building long-term relationships with them. So, whoever thinks email marketing is long gone, should definitely give it more credit.
In this article, I explain what an email campaign is, what are the features of an effective email campaign, and how to create it in Mailchimp.
Email marketing as a method for acquiring customers
Customer acquisition is a primary goal of every business that sells products or services, and there are various strategies that help companies achieve it. Email marketing is one of them, and, without a doubt, entrepreneurs should pay attention to this method. Even though there are many more advanced communication channels than a good old email (such as social media, videos, or search engines), email marketing still has a strong position among them and proves to be highly effective. By the end of 2019, the number of worldwide email users reached almost 3 million, the click-through rate for an email is much higher than for social media channels, and the return on investment is excellent. Email marketing is also very cost-efficient, and it's considered the best method for staying connected with customers for longer.
*
Do you need help with email marketing?
*
Email marketing campaign
I guess it's clear now that email marketing is worth investing your money. It's time to think about how to do it right because the competition in customers' inboxes is very strong.
An email marketing campaign is a series of emails sent by a company to potential and existing customers. Its purpose is to build and then strengthen the relationship with them through engaging content and compelling calls to action.
Three main steps to a successful email marketing campaign are:
determining the right target audience;
creating relevant content;
and taking care of an attractive design.
The content can include various elements – news about the brand, new products, updates, and new features if the product is software, inspirations, the background of running a business, reminders about abandoned carts, recommendations, or interesting articles. It very much depends on the business, as each company is different, sells various products, and has a particular audience.
It's essential to make the email marketing campaign engaging and useful for customers. It should be adapted to their needs (later in the article you'll find out how to do it). It's recommended to send emails within the campaign regularly, but what's crucial, not too often. Too many emails in a short period of time discourage recipients and may cause them to unsubscribe from the campaign. Finally, the design of the emails should match the brand identity, and the hierarchy of information should be clear. Keep in mind that people pay the most attention to information at the top of the email and in headers.
Mailchimp – a tool to create effective email campaigns
Luckily for marketers and entrepreneurs, various tools automate the process of creating email marketing campaigns and delivering them to customers. For a few years now, Mailchimp has been the most popular one.
Mailchimp is an all-in-one Marketing Platform that helps businesses reach their customers in various ways. It doesn't only enable them to create email marketing campaigns, but also social media campaigns, landing pages, search engine ads, shoppable ads, and even physical postcards. Mailchimp also offers many additional features that make the whole advertising process much more manageable. Users can design email marketing campaigns or use Mailchimp's templates, as well as monitor their results and analyze the effects.
Main advantages of Mailchimp
✓ Segmentation tools that make it easy to divide the audience based on specific criteria and, in consequence, send emails to particular groups, such as leads coming from specific sources, new or existing customers, etc.
✓ Possibility to use pre‑designed templates and drag‑and‑drop builder.
✓ Content studio – storage for all images and files used in campaigns.
✓ Built-in analytics tools that follow audience engagement and personalized recommendations based on their results. It enables marketers to better adapt the campaign to customers' needs.
✓ More than 200 integrated tools and apps, among them Slack, Zapier, WooCommerce, WordPress, and Canva.
✓ Wide range of additional automation such as sending welcome emails to new subscribers or reminders about abandoned carts.
✓ Very high inbox acceptance rate (over 95%), which highly increases the efficiency of email campaigns.
Mailchimp is a reliable platform that makes marketers' lives easier. Its users appreciate that everything is in one place, easy to manage, and very intuitive. They save time and resources and achieve much better results than if they did everything manually.
How to create an email campaign in Mailchimp
I'll show you how to create an email marketing campaign in Mailchimp using a pre-designed template. It's straightforward and can be done in just a few steps.
1. Log in to your Mailchimp account and click Campaigns. You can find this page in the top menu. Next, click Create Campaign.
2. A new window should appear. Choose Email from available options.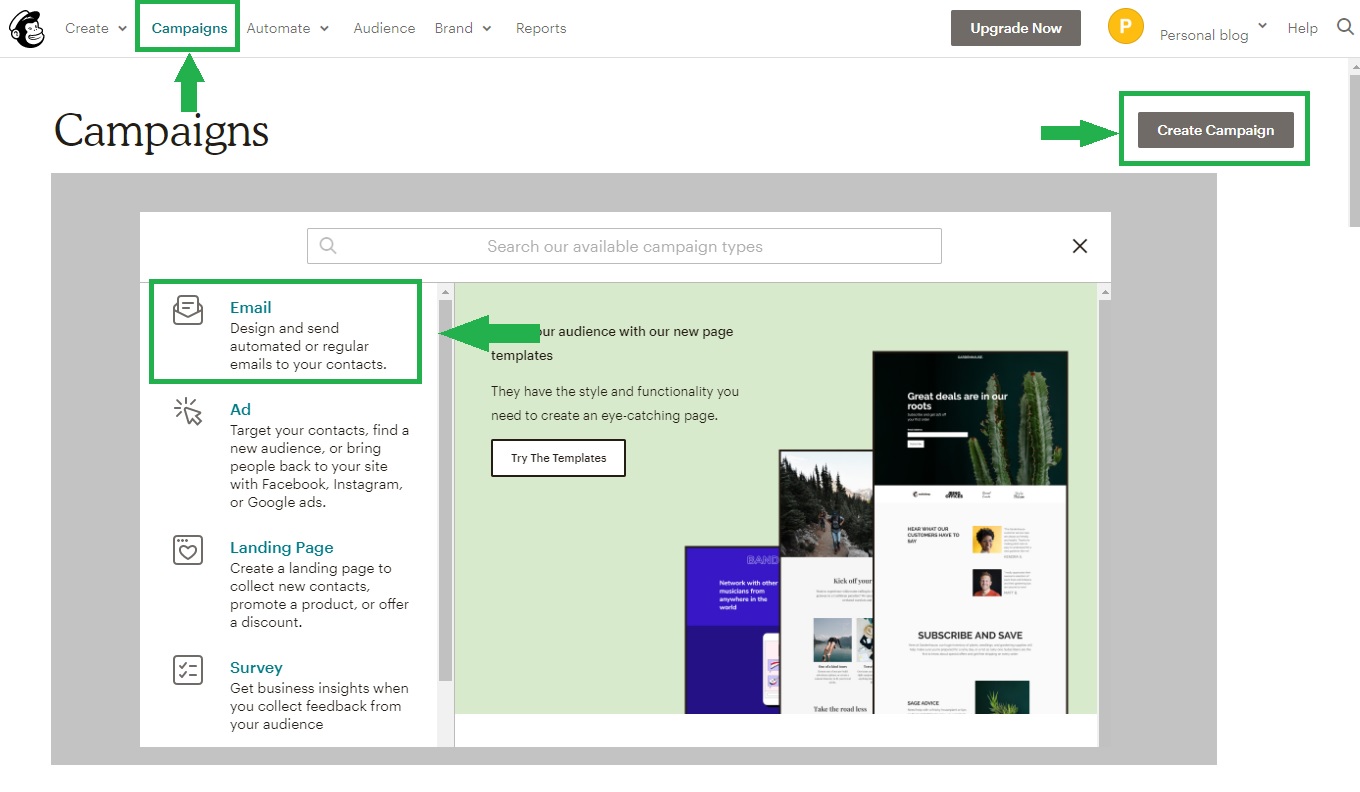 3. You'll be transferred to the next page. For starters, insert the Campaign Name and click Begin.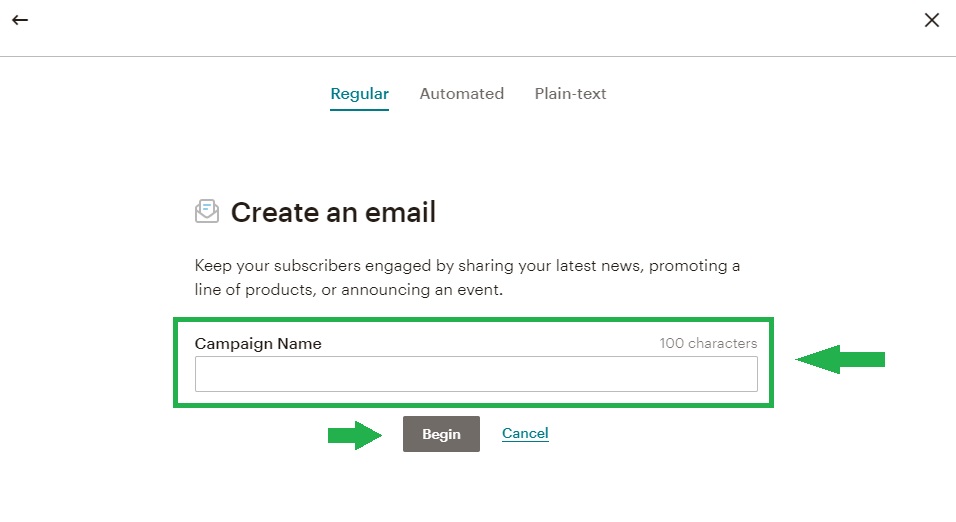 4. After that you need to fill in various information:
the target audience of the campaign (choose one of the previously created audiences and segment groups, if you don't have any yet, go back to the main page, select Audience from the top menu and create one);
information about the sender (you or your brand and corresponding email address);
subject of the email;
content.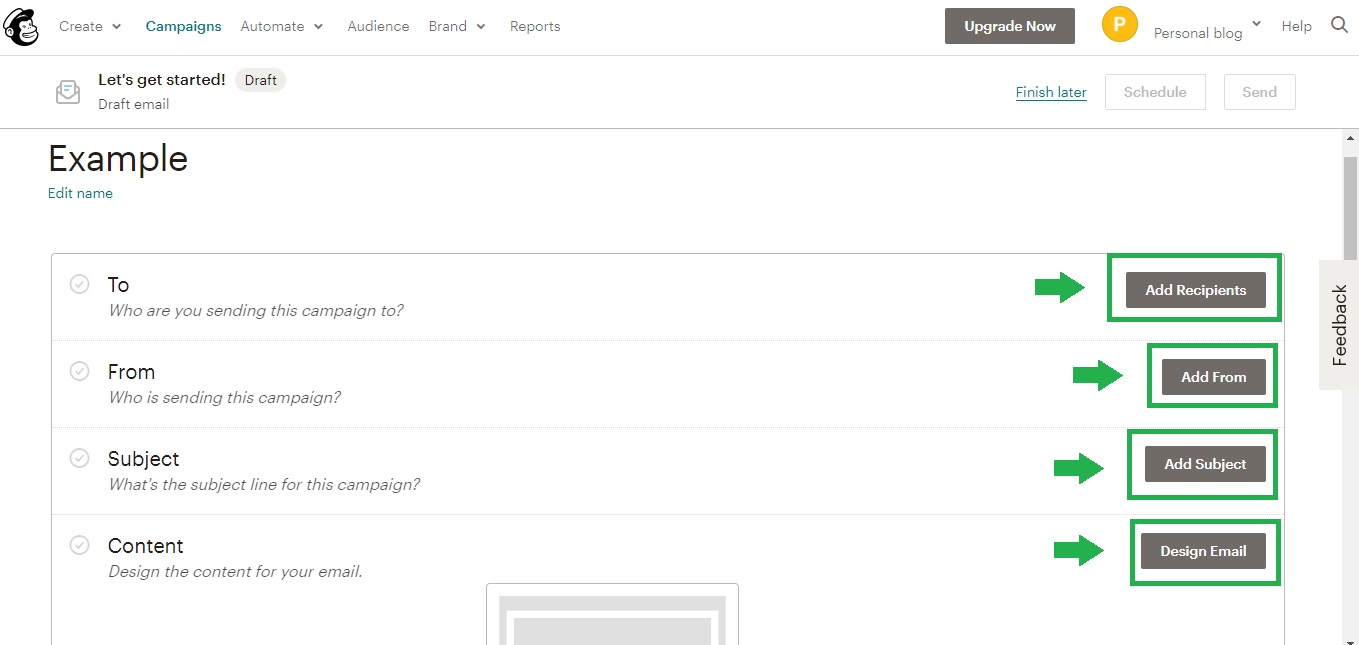 5. The last element requires the most effort. It is the essence of your campaign. After clicking Design Email, you'll be transferred to the page where you can choose a pre-designed template or code your own email layout. It's up to you which method you prefer.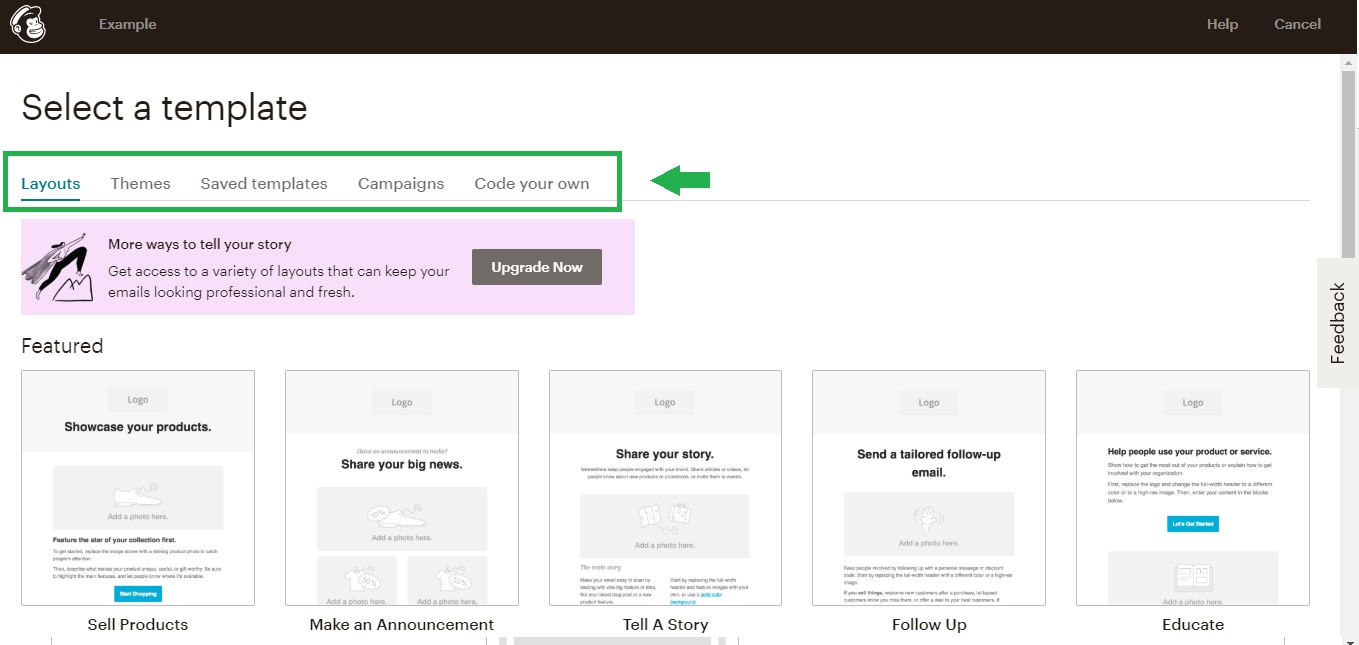 6. If you choose a template, you'll go to a drag-and-drop email builder. Here you can customize your email by selecting various blocks and adjusting them to your needs. Once you're done, click Save & Close.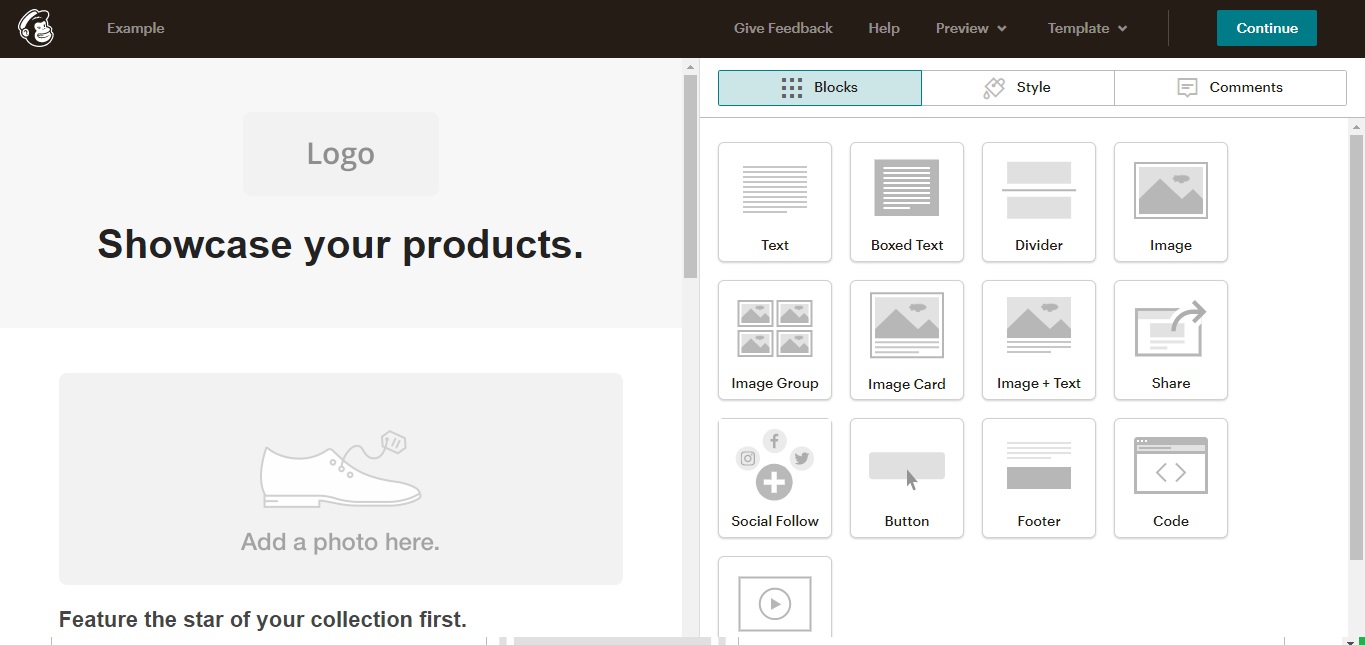 7. You should be back to the previous menu. Everything is ready now, so the only thing you have to do is click Send or Schedule if you don't want to send the email right away. If you do, Mailchimp will ask you to reconfirm it, so click Send Now. And that's it!

Staying in contact with customers is what entrepreneurs around the world work on now, harder than ever. That's because people appreciate relevant and personalized content and are more eager to buy from companies that understand it. Email marketing is one of the most effective ways of acquiring new customers and creating a strong and lasting relationship with them. So, no matter if you're just starting your business or you have a well-recognized brand, it's time to understand your audience better and benefit from email marketing campaigns.
*
Contact us to see how we can help you
*