How to Use Content Marketing and SEO for Startups in the Most Effective Way [Case Study]
Content marketing & SEO should be part of the advertising strategy for every startup. When I write about SEO I refer mainly to SEO in the blog and sponsored articles as well as technical aspects of the website.
First thing – technical SEO
As far as the technical SEO is concerned, I don't mean advanced operations (look at my SEO case study about the website of TimeCamp ). First of all, I think about changes that are easy to implement, such as:
Your website is mobile-friendly (you can check it with this Google tool);
Your website loads quickly (in this test, your score should not be less than 80 on both types of devices);
Your subpages' titles are SEO-friendly;
You use basic analytic tools, such as Google Analytics and Google Search Console.
Of course, many more factors are influencing your website's positioning, but let's say that at the beginning before you start creating content for your blog, you can focus on the ones mentioned above.
Content marketing that works
Below I describe the content marketing areas that will work for your product. You'll see examples of how these solutions functioned in real life. I implemented them in various startups and they brought measurable results in the form of active and paying software users.
Compilation of applications similar to yours
By creating lists of software similar to yours, you can take advantage of the fact that Google tends to promote content that is useful to users. You have the opportunity to appear high in search results for phrases such as "best software to …", "best app to …" and present your application as the best choice among your competitors.
See a few examples of such articles that I wrote for various startups:
Best Mobile Time Tracking Software – The Time is On Your Side Wherever You Are (TimeCamp Case Study)
27 Tools for Creating Google Shopping Ads (Heraldbee Case Study)
15 Best Tools for Tracking Machine Learning Experiments (Neptune Case Study)
Such posts have become particularly important recently and their value in search results has increased significantly. Here's an example of how this strategy affected the number of users' registrations for one of the startups mentioned above. You can see that the number of registrations from a blog post (blue line) significantly exceeded the number coming from the home page (green line). This situation is typical for startups, which use content marketing as their main tool for user acquisition.
Comparisons with competitors
In the case of a mature industry, which people associate with certain, well-known tools and software, it's a good idea to create comparisons between them. Popular Google queries are then "software 1 vs. software 2" or "alternative for software 1". Here's an example of how to create such content: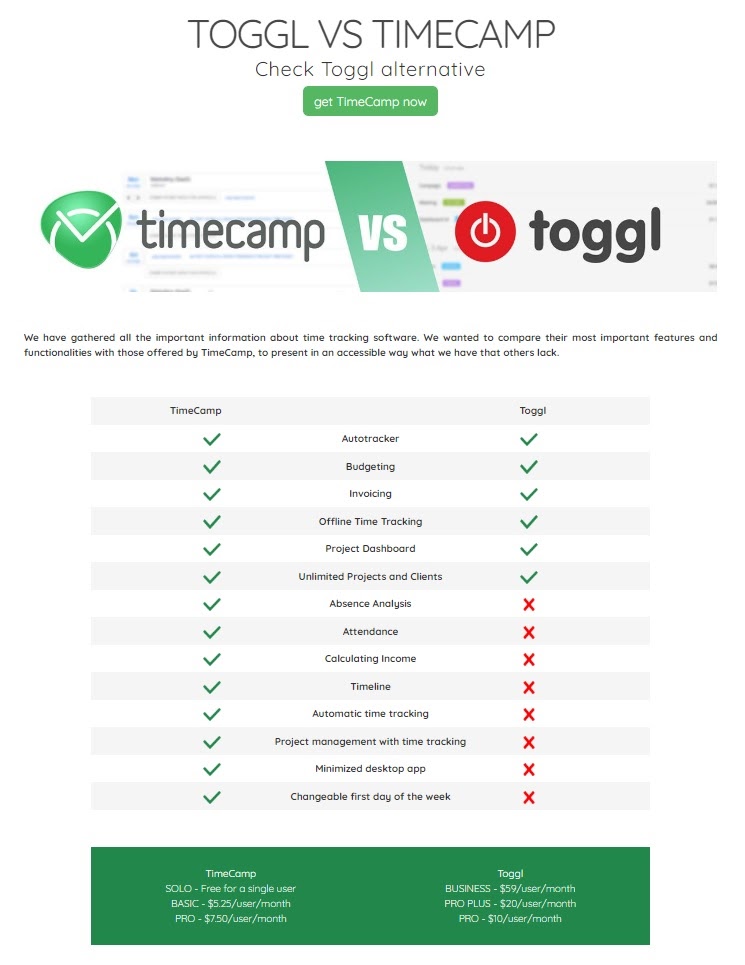 And here you can see how it looks like in Google search results:
Promoting your software by using integrations with partners
If your software is integrated with external software, scripts or brands, use it.
How long it takes for SEO to start working
Month 1 – Research and analysis, website audit, keyword selection and strategy planning. If the research and analysis can be carried out quickly, you can start making technical changes to the website during the first month. However, in some cases, the research phase may last longer than one month.
Month 2 – Implementation of technical SEO actions, i.e. changes to the website following the results of the audit. In some cases, it is necessary to completely redesign the website, which may take several months. Other SEO activities, such as working on the content and link profile, can be performed at the same time as the site is being renovated. In case your website indeed needs to be rebuilt, you will be working on the SEO activities, but you still won't see any results. The effects are visible only when the website is ready.
Month 3 – Time to focus on creating content. Blog, FAQs, whitepapers, articles, extended product and company information, etc. Ideally, you should start creating content as soon as you plan the SEO strategy, but often, due to budget constraints, startups can only do one thing at a time. Technical aspects of the site have priority in this situation. In any case, at the end of the third month, you should see improvements in search rankings. If they translate into leads or sales right away, that's even better, but don't expect that at this stage.
*
Do you need an effective SEO strategy for your startup? Heralbee can help!
*
Month 4 – Continue to create content, optimize technical aspects of the website and work on healthy link profiles. Good news – this month you can expect a significant improvement in rankings, the website traffic and lead generation. It won't yet be close to the results expected in 12 months but the effect should be strong enough to show you that SEO is working.
Month 5 – At this stage, or even earlier, you can start incorporating social media management into your plan. The aim is to strengthen the content message and increase direct traffic to the site. This can lead to a healthy, natural link profile, and of course generate leads. Continue to create content and maybe engage in some PR activities or collaboration with the media. At this point, you should see more and more traffic coming in from SEO and thus more leads.
Month 6 – If you notice SEO traffic of 5000 or more visitors per month, optimizing the conversion rate may become beneficial at this stage. It's time to work on the way traffic on your website converts to leads and/or sales. From then on, your activities can be consistently focused on creating and promoting content or you can do more creative things. The plan can vary significantly depending on your company profile and its website.
What can you expect from SEO?
It's hard to estimate how SEO can affect your organic traffic. But one thing is certain, if you get new referring domains, improve your technical SEO and create SEO-friendly content on the blog, you're going to rank higher and higher in search results.
There are three main rules that I want to share in this matter:
Rule number 1:
If you increase the number of linking domains, the traffic on your website will increase.
There is a connection between outreach for backlinks and getting more traffic from Google. We will bring you more backlinks from trusted domains.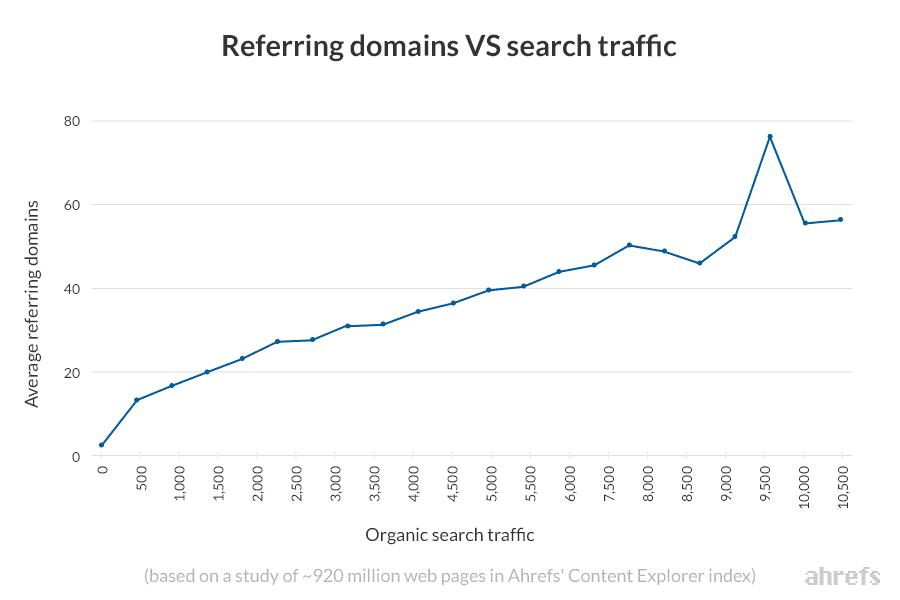 Rule number 2:
Content marketing will increase your visibility on the Internet.
If you write relevant blog posts you can increase your traffic and visibility on the Internet. You can observe some seasonal trends in your niche.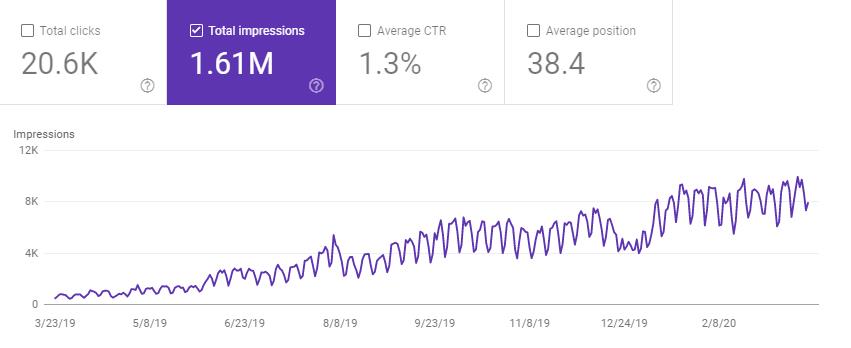 Rule number 3:
Using technical SEO you can take the results of your organic search to the next level.
Some sites need to be improved by SEO optimization. When you improve your page speed, correct redirections, check all titles, meta descriptions, headings, internal linking, etc. you can improve your ranking very quickly.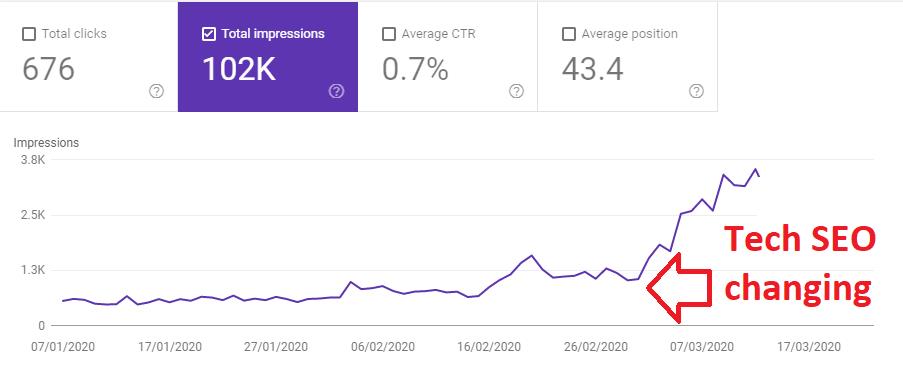 Rule number 1 comes from Ahrefs research. Rules number 2 and 3 come from real-life cases that we worked on. Looking at these rules, we can predict that your traffic could increase from 10% – 30% to 70 – 100% month/month.
*
We would be happy to help you with content marketing. Benefit from our experience!
*