TOP 7 Apps for Creating Google Shopping Ads for Shopify + BONUS
When, together with colleagues, we developed Heraldbee, there were few applications of this type on the market. At the moment, there are about 300 agencies dedicated to technology that automates the creation of Google Ads. The gap in the market we wanted to fill was Google Shopping Ads.
Advantages Of Advertising In Google Shopping
The benefits of Google Shopping Ads can be summarised in 8 points:
Better visibility in Google search results
The attractive appearance of advertisements
High efficiency
The product-focused path to purchase
In the standard model, payment per click only
The possibility of adjusting the rate per click depending on the margin or price of the product
Less competition
Compounds into sponsored search results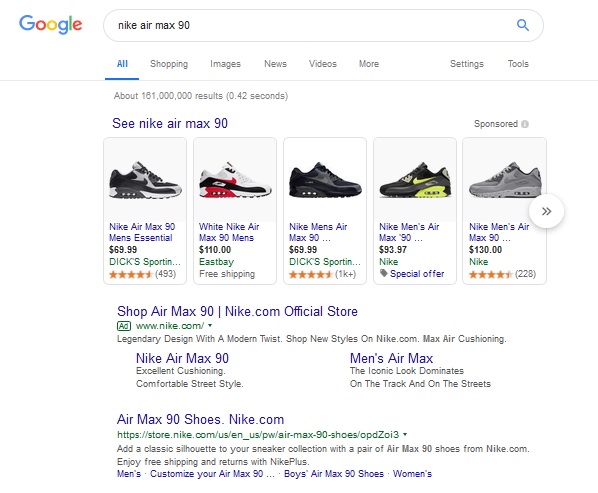 Shoes Nike Air Max 90 in the advertisement of Google Shopping
How Do Google Shopping Ads Automation Applications Work?
Applications such as Heraldbee are to help one set up their ad by exporting product feed from their shop to Merchant Center and configuring the settings in Google Ads. As a result, the user doesn't have to struggle with the tedious configuration of the advertisement on their own. What's more, they don't have to manually upload all their products to the Merchant Center panel, which is considered to be the most time-consuming task. Subsequent updates of prices, product names and other promotional elements in the shop require each time a manual change in the template sent to Merchant Center. Google Shopping applications are designed to make life easier for the shop owner, saving their time and money. For example, they don't have to pay for advertising agencies that create campaigns and count dearly for their services.
To create Google Shopping Ads, you have to import a product feed of your shop,
which needs to be implemented in the Google Merchant Center panel.
The most popular applications automating the process of creating Google Shopping Ads
Analyzing our market gap concerning Google Shopping Ads automation, you can distinguish the following software:
Heraldbee is an application that creates Google Shopping Ads, so you gain customers for your shop who convert to shopping.
Currently, the app is free of charge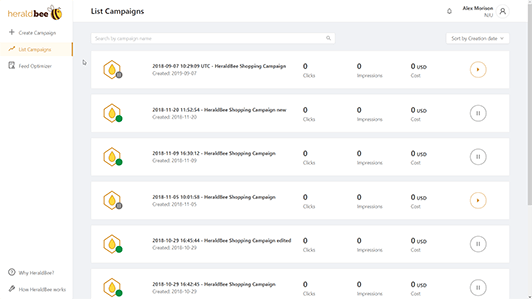 Heraldbee is available on Shopify stores
*
Do you want to drive new traffic to your website? Start building your online business with Heraldbee!
 *
Cobiro is a free service that automates the management of Google Ads—Text, Display and Shopping ads. Setting up your Cobiro account only takes a few minutes.
The application is available on the engine of Prestashop and Shopify shops
Free Plan – $0, PRO – $49 per month
Then automation of Google Ads with Shopify and Cobiro on the example of Shoppabilities.com
See differences: Cobiro alternative
 Adaplo helps ecommerce advertisers to get more Sales and Revenue by automating Ad Campaign Management.
Creation of Google Shopping campaigns in the Shopify shop with Adaplo
See differences: Adaplo alternative
The intelligent advertising software designed to save you time, improve your campaign performance and get the results your business needs.
Available on Prestashop, Magento, Woocommerce, Shopify
Supports Google Ads, Facebook, Bing Ads, Google Shopping, Yahoo, Twitter campaigns
Steerfox has an offer for franchisees
The clip promoting STEERFFOX
See differences: Steerfox alternative
Their expert marketing team will create personalized ad campaigns and our algorithm will automatically optimize them, driving the right shoppers to your store
Available on more than 30 platforms
Supports all Google Ads campaigns
Creates product feed on its own
Offers a free plan and a PRO plan – $120
The interview with StoreYa CEO
See differences: StoreYa alternative
AdScale was established by a group of mathematicians and experienced internet marketing experts. Their mission is to help marketers optimize advertising performance. The platform utilizes proven mathematical and statistical models together with an intuitive user interface
Supports Facebook, Instagram, YouTube, Bing and the rest of Google Ads
Offers Free Plan and a Pro plan – $29
Guide – how to start advertising with AdScale
See differences: Adscale alternative
Adnabu supports sub types of Google Ads (AdWords) search campaigns
14-day free trial, 99$ plan basic, 249$ plan standard, 749$ plan premium
Supports all types of AdWords campaigns
It has a popular tool for free audits
A demo version of Adnabu
See differences: Adnabu alternative
[BONUS] Other applications for Shopify that support advertising platforms other than Google Shopping Ads
Kit is the extra set of hands you've been looking for to help with marketing your store. As your FREE virtual employee, Kit will recommend the marketing activities most likely to drive sales.
Available on Shopify
Integrated with Customer reviews by Yotpo, SEO Manager by Venntov, Kit Karts by ShopPad
Creates ads for Facebook Ads (carousel) campaign, Instagram. Additionally, it enables remarketing
Offers a Free Plan and a PRO one
Sync your Shopify Store with your [Facebook Product Catalog]
Available on Shopify
Creates ads for Facebook Ads (Product Catalog), Instagram campaign. Additionally, it enables remarketing
Offers Free Plan and a PRO one – $49 and $99