How to Deal with Disapproved Products in Google Merchant Center?
Every Google Shopping campaign owner has experienced the disappointing feeling that follows seeing a long list of disapproved products in Google Merchants Center. In many cases, the source of a problem is an incorrect product feed. However, sometimes, it seems that everything is perfect and yet, still the disapproval appears.
See below 5 useful hints, which might help you find these products approved again:
1. Take a deep look into the diagnostics report– most probably a list of 50 disapproved products looks scary at first sight, but try going more into details of the report of issues and you may find out that most of the products are disapproved for the same reason or that resolving the issue is quick and easy. It may also be the case, that they are already approved by the time you figure out the solution. You should know that even disapproved products are evaluated by Google all the time. If the issue is resolved in the meantime the products will become approved again automatically!
2. If the magic doesn't happen and you still see some disapproved products in your campaign, try another easy way – manual approval. Did you know that Google gives us an option to request a manual review of a product? It's possible for certain items and it basically means a review is done by a real person. This person checks if the items are indeed violating some rules. Unfortunately, there are some products which will be regularly disapproved. The only option in that case is to simply request a manual approval over and over again. It's worth to mention that Google has 7 days to proceed with the review.
*
Do you want to drive new traffic to your website? Heraldbee can help!
 *
3. Unfortunately, it happens sometimes that no solution works. Google doesn't approve the product manually and the source of a problem is nowhere to be found – try getting around the issue by changing some product's features i.e. title or description. Check if splitting it with some signs or spaces will help.
4. Finally, Shopping Ads is a system as any other – it can temporarily let the users down and disapprove products without any particular reason (when even Google doesn't know the solution, or at least the time needed to repair the issue). They call it a "technical issue". If this happens to you, there comes the dilemma: you can either wait or take radical steps which means changing the product ID and adding it to the campaign as a completely new item.
5. When all the options fail, remember that Google takes care of its customers. There is a bunch of informative guides on their website and if those do not help, we can contact Google via email, chat or telephone through your Google Merchant Center account (the two last options may be available depending on the size of your campaigns).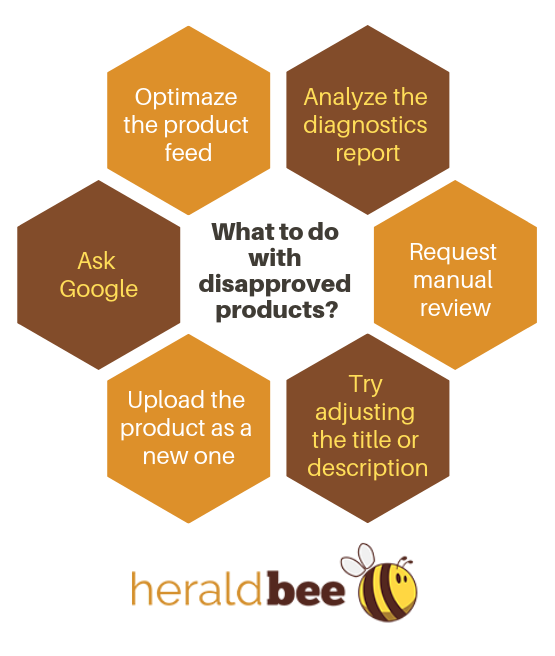 Let us know if any of the above helped you with overcoming errors in the Google Shopping Ads campaign! Or maybe you have managed to solve the "disapproved product" issue in another way? Share it with us! We will be happy to add another point to our list and make everybody's life easier!
Start your marketing campaign with Heraldbee App today!