How to Advertise in Google Shopping 
From today's post you will find out:
What is Google Shopping?
How does Google Shopping work?
What is a sales funnel?
How to advertise in Google Shopping?
How to segment Google Shopping campaign?
What is Google Shopping?
Google Shopping Ads (previously known as Product Listing Ads) are one of the forms of advertising products on Google. Google Shopping Ad consists of an image with title, short description, price and reviews. Basically, these are the small photos visible on the top of Google search results, tagged as sponsored. See below an example.
Google Shopping is considered as one of the most effective advertising methods for e-commerce stores nowadays. The number of retailers promoting their products via Google Shopping grows every year and so does the amount of money spent on Google Shopping campaigns. What's more, this format of ads is characterized by a relatively high conversions ratio which makes it more profitable for advertisers.
How does Google Shopping work?
This is a crucial question for retailers. What to do to display a Google Shopping ad in Google Search results? The tricky thing about this type of ad is that the final decision – if and where to place the ad – is up to Google. Here are some of the most important factors considered by their algorithms:
Product feed – information in the product feed has to be accurate, precise and true
Keywords in product description – they have to be relevant for the search query
Landing page – it has to match the ad
On the one hand, retailers don't have a direct impact on the ad disclosure in Google Search results. But on the other hand, by effectively managing the above aspects, they can have indirect impact on the performance of the ads and increase their chances of being displayed.
*
Do you want to drive new traffic to your website?
 *
Sales funnel in Google Shopping
The advantage of Google Shopping is that it can help you reach all levels of the sales funnel. According to Neil Patel, a funnel is the set of steps a visitor needs to go through before they can reach the conversion. In the case of sales, these are the steps leading to a purchase. The funnel consists of a few stages. First, customers need to find out about the brand, learn about its existence. Then, they get to know the company and familiarize themselves with its products. Finally, when they trust the retailer, they make a purchase and if everything goes well, they come back in the future.
The funnel can be presented as a reversed pyramid. It's the widest at the top because the number of potential customers is the highest at the first stage. A lot of people finds out about the brand but then only part of them digs deeper, to research products and even less finalizes the purchase.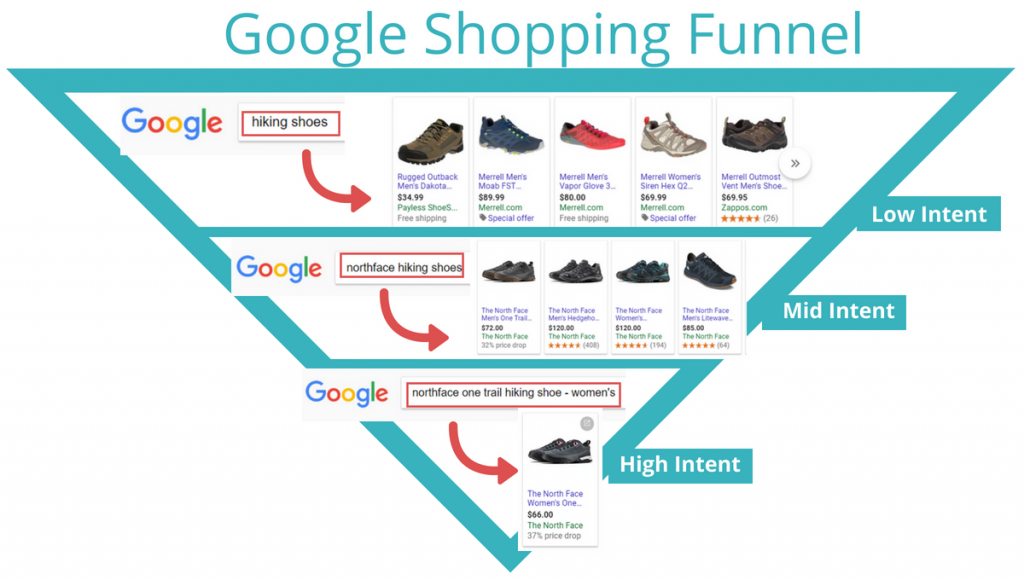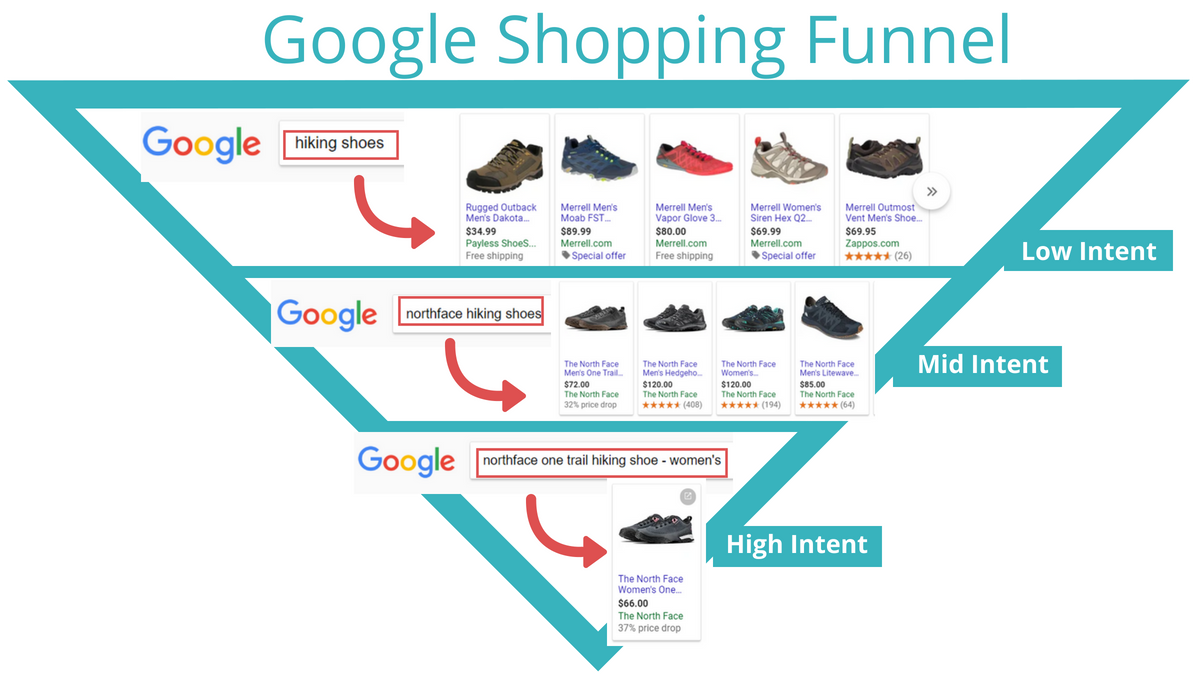 Source: tinuiti (formerly CPC Strategy) 
Advertising in Google Shopping?
Let's say an online shop wants to advertise their products in Google Shopping. They set up Google Ads and Google Merchant Center accounts and start a campaign (it can also be done with Heraldbee in a more automated way). But these are just the first steps. What should they do next? How to tailor the campaign so that it generates desired results? Well, depending on the goal, the strategy will differ. As mentioned before, Google Shopping is suitable for all parts of the sales funnel.
1. If the goal is to draw customers attention it's best to target general and non-branded requests. In order to do that, one needs to bid low, add specific brand names as negative keywords and target the whole audience. At this point, it's also crucial to count on RLSA (Remarketing lists for search ads). Such strategy results in a low conversion rate, but that's completely normal when targeting the top funnel. It's the most important part of advertising, the beginning of the whole cycle.
2. Going deeper into the funnel, we have customers with a little bit more specific searches, but still not set on our store. They search by generic but branded keywords. To target them, the bids must be at a medium level. Remarketing plays an important role in this strategy as well with higher bids reserved for RLSA. Conversion ratio is expected to be higher.
3. Finally, there are customers looking for a specific brand and product. The goal, in this case, is to target them with high bids which pay off with high conversions. At this level, it's essential to eliminate unimportant terms by using negative keywords.
.
See our infographic below that summarizes all the above points.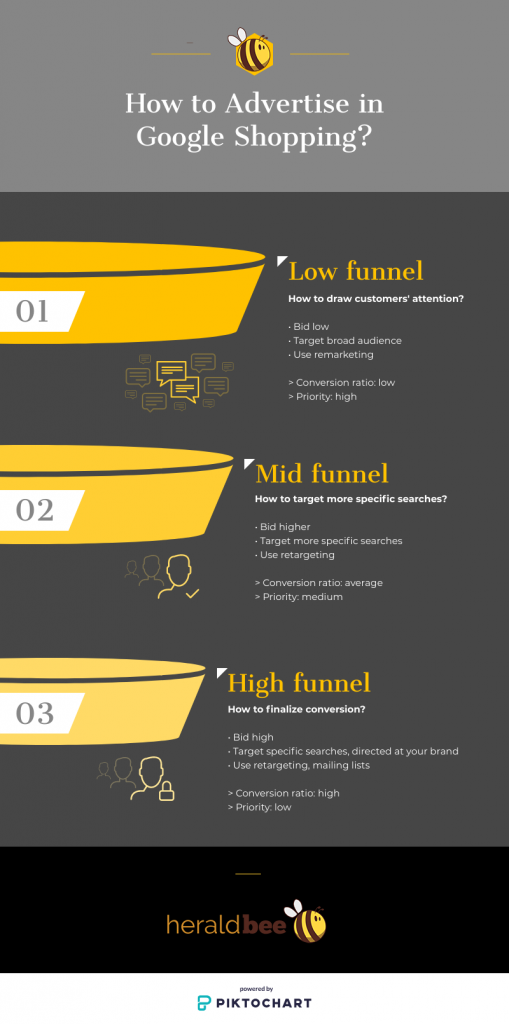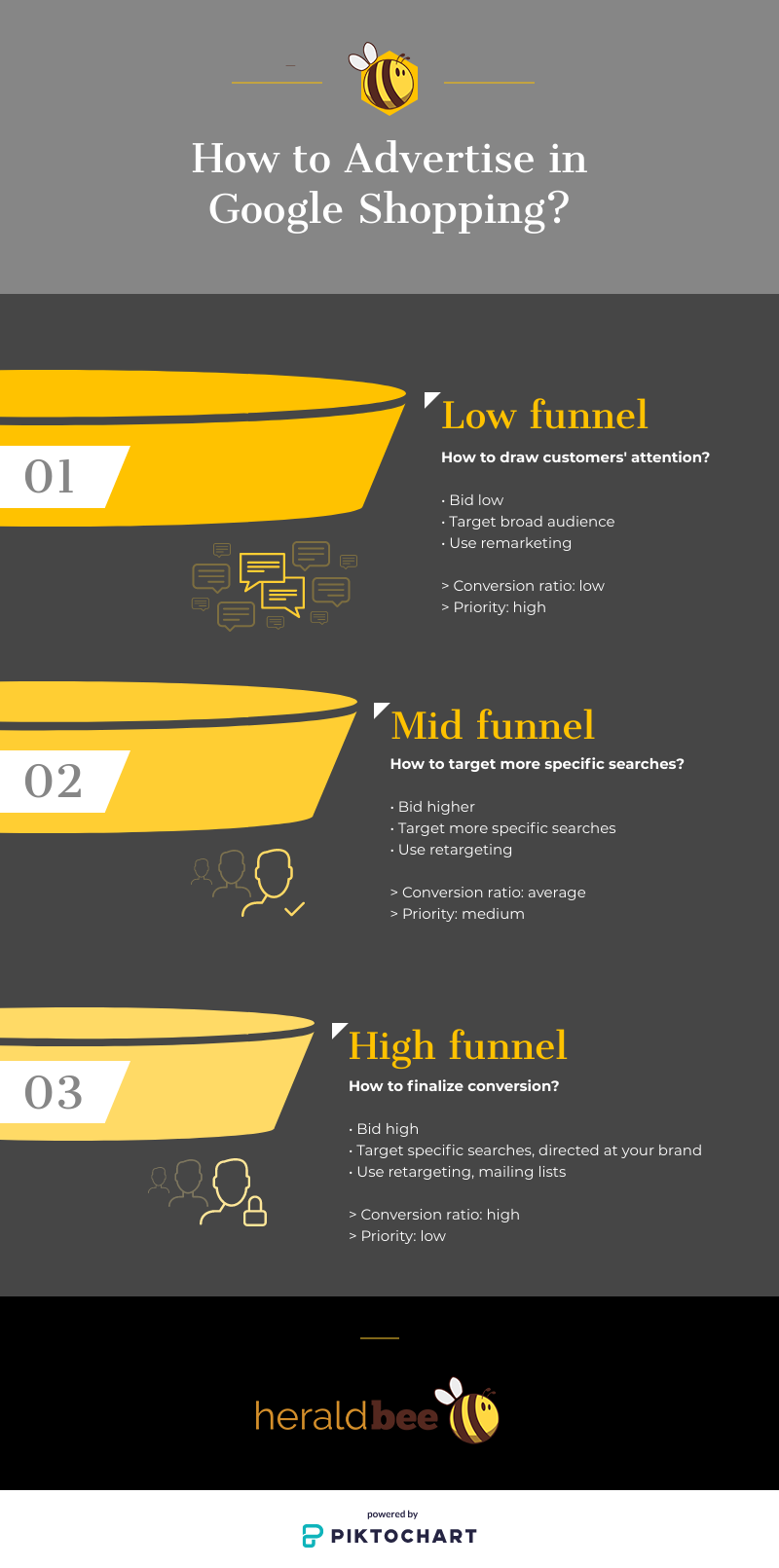 Segmentation of Google Shopping campaigns
Targeting all sales funnels in Google Shopping is possible thanks to segmentation of a Google Shopping campaign. Google gives the option to divide all advertised product into groups (called product groups) and set up different bids for each of them. A product group can even consist of one product. Groups should be created based on the factors that differentiate products within them. It may be price, condition, brand, color, etc. Below graphic from WordStream perfectly illustrates the concept.
Tip: it's best to observe which products are most popular among shoppers and find out what's the reason behind it. Is it a specific brand they choose or a certain model? If you see a pattern, create product groups accordingly and bid higher for the most profitable ones. And don't be afraid to create a lot of product groups! It's definitely a good strategy.
Check out our article How to Manage a Shopping Campaign with Product Groups to learn how to set up product groups in Google Ads.
Hopefully, you understand Google Shopping better now and you're able to start using it on your own. We believe it's the most effective form of advertising and e-commerce stores should take advantage of the opportunities Google Shopping provides.
In case you have any questions or you need any help, feel free to contact us. We can not only help with building an online store but also with advertising in Google Shopping. We'll be happy to answer your questions!
Build your marketing campaign with Heraldbee today!